0345. Nirvana
In Utero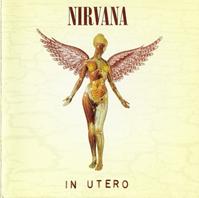 Selling less than half of Nevermind, Nirvana's third studio album still was a huge hit. As a deliberate step back from the more polished sound of its predecessor it's kind of ironic that the two tracks they decided to change the "final" mix of are the most accessible. I'm of course talking about the songs that made it to becoming singles: Heart-Shaped Box and All Apologies. Both are great and could easily have been exchanged with a couple of tracks from the previous album without any one of the releases suffering.
The very catchy melody of Rape Me (co-released as single with All Apologies) is a slight problem, though: it's far too easy to start singing it in public places.

The only track I'm having trouble with is Pennyroyal Tea and Cobain's forced delivery of those two words in the refrain, not even Tourette's - seemingly designed to be annoying - is as irritating as the "pennyroyal *pause-breathe-in* teeeeaaaa".
There's frankly a different feel to In Utero. It's more like taking a step back and observing what's happened than saying what's going on. Both the first track, Serve The Servants, and the tenth, Radio Friendly Unit Shifter, are obvious commentaries on the band's success and the attention that followed. The latter not so much in the lyrics as in its title, but the former dishes it out regarding rumors and loose opinions surrounding them.

So, maybe not as revolutionary for the teenage mind as Nevermind was, but still: a fantastic album.