0480. The Divine Comedy
Casanova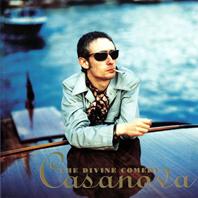 I know I've heard a fairly good single from The Divine Comedy, but I can't recall its name, and worse: it's not on this album.

Cause this is an album by a guy who knows he's got a fanbase and who knows he's got funding. Singer, frontman and only constant member Neil Hannon sings with a real annoying von Oben attitude which I suspect is meant to sound dramatic, but only manages to piss me off.

Quite simply, there's eleven songs where Neil shows off his skill in composing for different genres, at the same time as it's eleven tracks of Neil sounding like a complete wanker.