0825. Death In Vegas
The Contino Sessions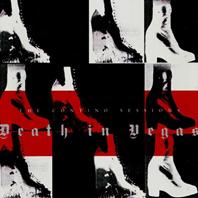 Death In Vegas started out in the tradition of Dead Kennedys by naming themselves Dead Elvis, but after the King's estate complained they changed it and used Dead Elvis as the name for their debut instead. This is the second album, The Contino Sessions,

The album opening hit Dirge has great soundtrack qualities, just like a lot of the tracks here, and I think it's here where their strength lies: when treating everything as building blocks for creating moods they go with it and excel.

But when it comes to creating lyric-driven songs they have a bit left to get the balance right. The worst offender is Soul Auctioneer with Bobby Gillespie.

The greatest example of where they don't let the vocals take over, but instead make them a part of the structure is Aisha. Iggy Pop's lyrics are more or less spoken and could easily have been sampled from an indie-movie.