0271. The Small Faces
Ogdens' Nut Gone Flake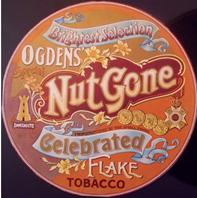 Yet another psychedelic pop-album from the late sixties? Well, maybe so, but this time with a title track that sounds lake it was made in collaboration with Air - there are some similarities in the use of the Moog.
They've also got some heavier type of rock and, at the end of the A-side comes the song that I believe launched the album: Lazy Sunday, a very British number in its music-hall comedy.

Called a concept album I got to say it's a bit mislabeled since it's only half the album that bears the concept: The B-side is a fairytale about Happiness Stan. Framed by a narrator who doesn't make sense the songs seem more like intermissions in Grampa Simpson's ramblings it kind of crashes the concept and I don't really can make out more than that Rollin' Over seems a bit influenced by Hendrix' Foxy Lady. Other than that it's a blur, which makes it lose ground when compared to The Pretty Things' S.F. Sorrow from the same year.

The album reportedly never was performed as a whole by the Faces due to its complexity, but I think it's more to do with it being so jumbled.
Got to give 'em props for the circular sleeve though, a nice touch.