0150. The Electric Prunes
The Electric Prunes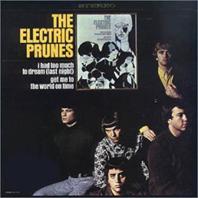 Okay, first off: the book's once again messed up, cause this album doesn't even exist. Or rather, this album isn't named I Had Too Much To Dream (Last Night) as they claim in 1001 Albums You Must Hear Before You Die cause it's yet another one of the eponymous debut albums, so that just bad research, kids. In this case probably just consisting of reading the text on the cover and hoping one of the two titles were the album's.

But over to The Electric Prunes. Since it's from 1967 and is made by a band with a "far out" name it's of course psychedelia we're talking about - and this time it's psychedelic pop with a monster vibrato on the guitar and a faithful tambourine.

Not one of the twelve songs are over three minutes, all but two tracks, Train For Tomorrow and Luvin', are ghost-written. At a first listen it passes quite uninterestingly, but on the third it starts to get some hooks in. The tracks to look out for are I Had Too Much To Dream (Last Night), Are You Lovin' Me More (But Enjoying It Less) and Sold For The Highest Bidder. I however don't think this is anything out of the ordinary for the time and their album Mass In F Minor, where they put the psychedelia-treatment on the Catholic Mass, is probably a more ground-breaking album, so I hope it's not passed over in the book.