0122. 2Pac
Me Against The World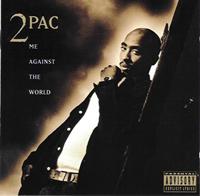 Okay, so what do you do if you're bout to go to prison? Why, record an album of course. (By the way: the book ("1001 albums you got to...") lists this album under the name Tupac, which means they - once again - haven't gone through the details.)

The Intro of Me Against The World consists of samples from newscasters commenting partly on Shakur's problematic relationship with the law, but mostly on his near-fatal shooting just a couple of months earlier. This event, and the aforementioned prison-time seems to have made it's mark on the album as it's more introspective than his previous work.

That, however, doesn't mean he's crying on the mic.
He goes from one extreme to another and without blinking switches from thug life (Me Against The World) to his death (If I Die 2Nite and Death Around The Corner) to celebrating his mother (Dear Mama) and of course there's the mandatory reminiscing (Old School).
Lyrically he's good, but where he really excels is in the delivery: gifted with one of the coolest voices in vocal-based music (yes, he's up there competing with you, Lemmy) and the skills to use it everything he says sounds believable.