0237. Boston
Boston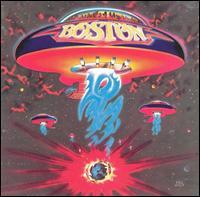 The word "uncomplicated" sums up Boston's debut pretty good. It's classic rock with foot-tapping qualities and lyrics about implicit sex, soft drugs and rocking out and well, all that.
It's the musical WYSIWYG and as such I can't complain. The only thing that actually sound silly is the first part of the organ solo in Smokin', cause it sounds like he wants to be in Deep Purple (and Purple they ain't), but it soon catches up and turns out to be probably the best part of the song. The double-whammy of Foreplay/Long Time also starts out like Deep Purple-light, but with a much truer approach to it it works better.

But neither of those mentioned, good as they are, aren't the reason why this album's sold multi-platinum to be another of the top grossing debuts of all time. It's instead the first song on the album, the wildly popular More Than A Feeling, with its signature riff and chorus makes Boston a very pleasant album to end the week with.