0786. David Holmes
Lets Get Killed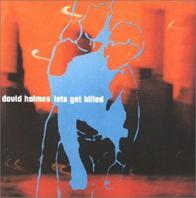 Yesterday's album this seems like the natural progression: a couple of years later, with bits of musique concrète and street recordings of conversations, jungle's gone from the darkness of the club to the dim lights of a laptop screen.

It just feels tamer. As if he's more into planning than doing. Also, it feels like a compilation album where someone's set out to gather "what's hot now" and wound up with eight or ten more or less different electronixc genres squeezed into thirteen songs.

Sometimes there's just too much lag time - like in his version of the James Bond Theme, Radio 7, where the intro repeats itself for at least twenty seconds too long (other than that, it's an okay track).

The instrumental version of two of the dirty old man Serge Gainsbourg's songs (Melody and Cargo Culte) which he calls Don't Die Just Yet is rather good, though.