0650. The Teardrop Explodes
Kilimanjaro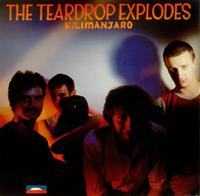 Eighties! But is it New romantic like Duran Duran or New wave like Japan? I can't decide, but just listen to the music, it's got to be one of those.
Oh, so it's neo-psychedelia? But, dude, it's not reminding me of The Soft Boys at all. What gives? Ah, it's the organ in Sleeping Gas and the backmasked guitars in Poppies In The Field? Hell with it. Genres doesn't seem to come easily for anyone.

What this is, however, is full on shout-sung lyrics half the time and great melodic work all the time.
I'd say that this is in some aspects better than anyhing sibling/rival band Echo And The Bunnymen produced, but Echo on the other hand had the stamina to ride out their success - The Teardrop Explodes went on to release one more, radically different, album and then broke up before their third.

And I can't figure out the band they remind me of.