0236. Tears For Fears
Songs From The Big Chair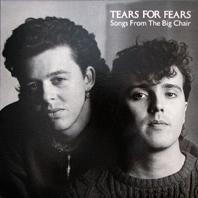 The album's named after the psychologist's couch in an old British TV movie and with that in mind I can't help but seeing a theme sort of running through the songs, so that Shout seems to be about cathartic cleansing of the soul (when it's actually about political protest).

The album sort of slowly grinds to a halt before it stops and I can't really define when it starts, cause in one moment it's as strong as ever and in the next I realise it's gone at least ten minutes and I'm listening to a whole other track. It's not a good sign when I forget songs immediately, possibly not for me as it may be an early sign of old age, but most definitely for the album.

One thing I'll remember, though, is singer Roland Orzabal's bitter words after not getting the Ivor Novello International Hit of the Year award (which I didn't even know existed) for Everybody Wants To Rule The World, saying the winner wasn't real song since it was "just a dialogue collage". Not a sore loser at all.