0671. Radiohead
OK Computer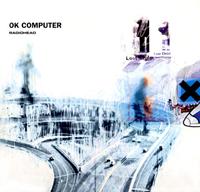 The frickin' fifth time Radiohead's popped up here, and this time it's the third album, in between of The Bends and Kid A - i.e. the album before they almost broke down.

Given complete artistic freedom and no deadlines made the band happier than in ages, and so they spent a whole lot of time recording. Mostly without overdubbing it, the album is a sort of live-in-the-studio release (if they'd recorded in a studio instead of an old mansion).

And they got a lot of good songs out of it too, sounding very similar to how they were played live Paranoid Android (in spite of its silly name), Airbag and Karma Police, along with a handful of others are songs that just, well, all I can say is, this is a band that's probably deserving of having all their albums on the list.