0027. Rod Stewart
Gasoline Alley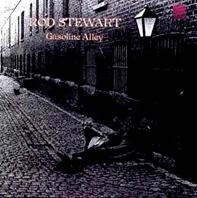 A lot of people don't know this (and even more doesn't care) but Rod Stewart once were a pretty decent blues rock singer. With stints in The Jeff Beck Group and Faces (as well as Hoochi Coochie Men - way to connect back to yesterday, random page generator) he had established himself as something the crowds liked (being twenty-five and sounding like a raspy old sea-captain apparently sits good with the ladies).

The songs go from blues-rock to folk-inspired ballads and back again with the cover of It's All Over Now (made famous by The Rolling Stones, but written for and by The Valentinos) as the second best track. Second place maybe just because it's been done better by others. The best song is You're My Girl (I Don't Want to Discuss It) with it's (kind of) funky rhythm and rock'n'roll break around the two-minute-mark. The rest of the album is alright too, even if I at times get a bit tired of Roderick's raspiness (it doesn't quite suit the Dylan-cover Ony A Hobo).

This isn't an album you'd spontaneously throw on to liven the day, but if you want to hear what he sounded like before his millionth performance of Maggie May this is a good album to start with.