0361. Chef Raekwon
Only Built 4 Cuban Linx...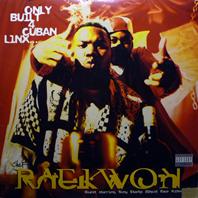 The first representation of the Wu-Tang Clan on the list! Raekwon's Only Built 4 Cuban Linx... was the third solo effort after Method Man's Tical and Ol' Dirty Bastard's Return to the 36 Chambers: The Dirty Version. Generally acclaimed to be the best of the bunch I'm expecting to have my ass handed to me by a couple of friends if I say a bad word about it (you know who you are, so know I'm watching you (as well as sleeping with one eye open)).

So, here goes: RZA:s productions are still vintage Wu, as is the vocalizing by Rae and guests (even Nas sounds Wu on this one) - hell, it was only two years since Enter The 36 Chambers changed the face of hiphop - but RZA:d started to move on a bit. A bit more smoothness and a bit less grimy, more soul singers and less kung-fu movies in the samples.

The lyrical themes though are definitely more street-gangster than the free flow insanity of ...Chambers and that' the clincher for me. And while some might argue that it's "just vernacular" or "sociolect" a clean version of this album would probably contain just five minutes of lyrics (if it was just racial slurs that were cut maybe it'd be twenty minutes or so).

If I could tune out some of the lyrics I'd say this is one hell of an album, but right now? It annoys the fuck out of me.