0403. Crosby, Stills and Nash
Crosby, Stills and Nash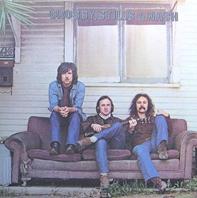 Face, meet palm. We've hit a bit of a SNAFU here today as I accidentally got hold of the wrong album. Instead of their eponymous debut, Crosby, Stills and Nash, I got the CSN album from eighteen years later. Sadly I didn't realize it until it started to sound a bit too modern to be from '69.

So, well, for today I've listened to two Crosby, Stills and Nash albums. And aside from having the names in common (CSN:s of course short for Crosby, Stills and Nash) they also agree on the fact that they are both one album away from having Neil Young on them as Crosby, Stills and Nash is the trios first album (and also their last before becoming a quartet) while CSN is the first after becoming a trio again.

But let's keep to the debut.

In short, it's hippie music. If I get to elaborate a bit this is an amalgamation of rock, folk (and some more) with a range from the personal pains of a relationship going down (as in the four song suite Suite: Judy Blue Eyes) to fear of international atomic apocalypes (like Wooden Ships).
It's also a pretty decent album, cause while they flak out into doubtful stuff like Lady Of The Island they instantly redeem themselves with beautifyl harmonizings like Helplessly Hoping. No wonder this trio's managed to keep an on-and-off relationship for the last 43 years.