0374. Ryan Adams
Gold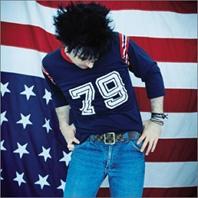 Speaking of alt-country, this planned-to-be-a-double-album-but-the-label-snubbed-me is Ryan Adams' second album demonstrating that there's hits and misses in every genre.
Cause no matter if it's his breakthrough hit New York, New York or attempting to sound like the Rolling Stones in Tina Toledo's Street Walkin' Blues it's the same friction-free impression I get. As if the soundboard settings in the studio were super glued and stuck on "meh, it's adequate". Combined with a weight of Jason Mraz-proportions this is.

Speaking of New York, New York it's interesting how quickly you can get attention in the right (or wrong) setting: the video was shot a couple of days before nineleven and when released got a dedication-note at the end, which of course got it heavy rotation as people mistook it for some kind of tribute-song.

This an hour and ten minutes of music so boring I think I'm gonna fade away any second.