0207. Eno
Here Come The Warm Jets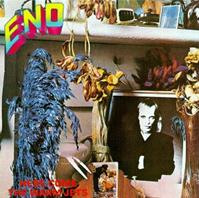 Not to be that guy, but at times this sounds more Bowie than Bowie.
Anyway, after leaving Roxy Music, Brian Eno set off on his solo career with this, his debut. And it's pretty hodge-podge.

He gathered a bunch of skilled musicians and paired them up according to least in common just to create interesting friction, but then revamped it all in post-production so that the involved parties couldn't hear it was the same stuff as they played in the studio.

Baby's On Fire would have sounded a lot better without Eno singing on it, but in Cindy Tells Me it's a bit better and the parody of his old band-mate Bryan Ferry in Dead Finks Don't Talk is kinda sad. He ends up with an album that's trying too hard. Luckily he got better and found his forté later on.