0199. Dusty Springfield
A Girl Called Dusty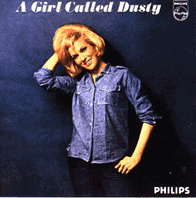 After leaving the other Springfields in the trio, Dusty aimed at a solo-career and after scoring a huge hit with her first single this album was recorded.
And it's the sound of the budding teenager-culture coming into bloom, with the general theme of love and longing and music often suited for the slow dance at the end of the sock hop.

As it's mostly versions of songs that became hits for other people there's of course a hefty chunk of evergreens, while not all of the songs have survived their time. But tracks like You Don't Own Me, Wishin' And Hopin' and of course Will You Love Me Tomorrow still stands the test of time. Not bad for an album that clocks in at under half an hour!
Dusty sings like a pro and it's no wonder she had a hit with this, cause the combination of Burt Bacharach-songs and a strong voice will sell.