0406. Siouxsie And The Banshees
The Scream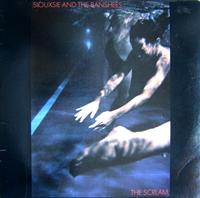 Siouxie And The Banshees had got quite a reputation for their stage presence and had already scored a top ten hit before they released this debut.
And while the music very well fit into the post-punk / new wave-categories, Siouxie's singing reminding me more of Adam And The Ants than of Magazine (okay, technically both the Adam-album and Magazine's came out two years after this one, but you catch my drift, mmkay?). That of course means I can't let go of the inner vision of Siouxie and the Banshees being a bit too much concentrated on their makeup than on the music (just like Adam and his Ants).

At the time of its release, though, The Scream was compared to Can, Marc Bolan the Velvet Underground - so, maybe I'm way off base here (or some reviewers in the past just didn't know what to say).

I think I'll have to get back to this one some day and have a re-listen to see if it's really the best album of 1978 or if I'm right saying it's just a good album.