0135. Chemical Brothers
Exit Planet Dust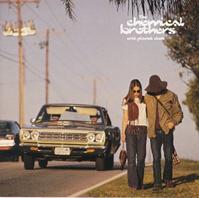 Yet another debut that shook the charts and popularised a whole genre, Exit Planet Dust is a made-for-the-dance-floor album. That of course mean it might not do just that much when listened to in the solace of one's home. But still, they know how to create big beats with a gigantic groove.

I becomes a bit obvious that the raving lunatics in the club are their perfect audience nd that they shouldn't try to experiment when the closing track, Alive Alone, rolls in cause it sounds like a sub-par rip-off of Massive Attack's Hymn Of The Big Wheel and just doesn't belong (but I'm apparently unique in that aspect as it was appreciated enough to be a big step up for Beth Orton's career).
But up until then it's a non-stop floorfilling extravaganza with breakbeats an fat, croaking, phat basslines.