0266. Björk
Debut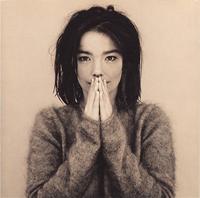 Damn. As soon as the Random Page Generator pulled this on out for me, Human Behaviour started to loop in my brain. The main problem with that is that I still (after eighteen years) find it to be an annoying song. The lesser problem is that I find it to be a fairly good song (yeah, yeah, I'm complex, I've got layers, I'm an onion, okay? now shut it) - a feeling that crept up on me after a couple of years.

Debut is the second album by Björk on this list, but the first (well, okay, technically the first released as an adult) she released as a solo artist (hence the title), but unlike Vespertine this is a more conventional album. Half of the songs are house-tracks, and as I guess you know my feelings about house by now I can say that this album doesn't quite fan the flames of acceptance.
And well, as the debut and breakthrough album of one of the more original acts of the last twenty years I guess it's a must hear album.

As a nice little turn of events the third single released from this album wasn't even on it's first release, but added as a bonus track on some later pressings. Ironically it's also the best song of the album. Play Dead, with its hints of a triphop sound, hits closer to home.