0524. 10cc
Sheet Music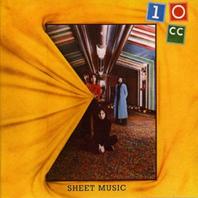 10CC's second album, Sheet Music, is very close to what I'd call prog rock light, but as others call this art-rock I'll settle for that too.
Not to be the one to complain (or am I?), but they easily could have weeded out some of the ideas in their cambrian explosion of creativity. Cause they're really all over the place and songs like Hotel would be better as one of the tracks left on the studio tapes instead of pressed onto vinyl.

But then there's The Wall Street Shuffle - a standout track with its signature riff and sarcastic take on the 1% - and some other songs (including the other single, Silly Love, as well as Baron Samedi) are also great shows in innovative blending of genres and styles.

Another band dedicated to doing whatever the hell they liked, but being a bit too sarcastic about it.