0590. Dagmar Krause
Tank Battles: The Songs Of Hanns Eisler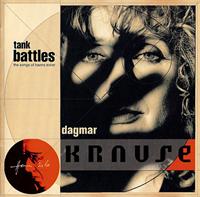 Hanns Eisler was a jew and composer who was deported from Nazi-Germany for being a jew and deported from the U.S.A. on suspicion of being a communist (I guess they misread the "composer" part pretty severely).
Dagmar Krause on the other hand hasn't been as persecuted by state powers, but instead got to pursue the arts freely, being part of the German avant-garde music scene as well as recording songs by Bertholt Brecht (close friend and collaborator of Hanns), Kurt Weil and, on this one, Eisler, a man that died when Krause was twelve.

[question is: why does 1001 Albums You Must Hear say that this is an album of Eisler/Brecht songs?]
She's got a voice full of expression and drama and synchs with the music in a way that Ute Lemper didn't when her album of Kurt Weil (among others) songs came, twelve years after this release.

One of the things I like is that despite being produced in the eighties it's almost completely devoid of any eighties' production. It becomes almost painfully clear when such elements do pop in, like the guitar in The Rat Men and some of the sax-parts in The Homecoming, but as I said: it's not frequent at all.

At the first couple of listens I don't even reflect about the electric guitar in Ballade Von Der Belebenden Wirkung Des Geldes, after that I'm just amazed that it doesn't seem out of place. The only real problem with this collection of songs is that the twenty-six lieds get to be a bit too much. There's just too many stories to take in - a "problem" easily solved by breaking up the listening into parts.