0802. The La's
The La's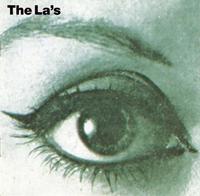 I never thought it could be so refreshing with a string of pure pop songs, and I'm amost a bit disappointed when the hit There She Goes pops up - it and the closer Looking Glass steps away from the sound of the other ten songs in a way that puts a damper on my enthusiasm.

But not much and not for long, cause The La's is a tiny masterpiece of an album and this was actually a welcome rest from the last days highly opinionated releases.

A difficult band to say the least, the recording of this album was a battle between the band and a string of producers, the last of which actually took the semi-discarded sessions and pieced them together into this release.

The band wasn't happy, but I'm pretty satisified.

Unfortunately, this lot's blamed for inspiring acts like Oasis, but don't hold that against them, cause The La's only album is a gem.