0343. Jean Michel Jarre
Oxygène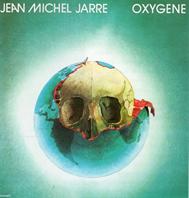 This breakthrough album was recorded in the kitchen, with one person, a whole lot of analogue synthesizers and effects, an eight-track recorder, and became the best-selling French album ever (and at twelve million world wide it means it outsold a whole lot of every other album released too).

Oxygène is a six-movement composition divided into two acts due to the album's original release on vinyl - there's of course a split in the middle where you're supposed to flip sides. As I got lulled into the still very futuristic sounding music I didn't really think about the break the first couple of times, but there's a very grandiose feel to the closing of the A-side.

Then the fourth movement (aptly named Oxygène Part IV) comes in with its unmistakable riff (borrowed from Popcorn with a slight variation) and makes the next three minutes and fifty-five seconds pop until it phases out into the more ambient-sounding Part V.

This album's a nice companion, from the bubbling intro and well into its fade-out into the sound of electronic waves against steel shores.