0817. De La Soul
3 Feet High And Rising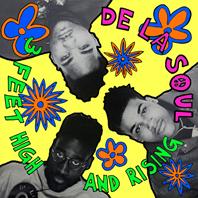 Playful bordering on erratic, this debut was, and still is, a refreshing breeze in the macho-posturing world of hiphop. The album that also originated and set off the trend of the skits in hiphop (often very poorly used, though The Goats' Tricks Of The Shade is a noteable and excellent example), with its (silly) gameshow narrative is part playground and part class.

The one track that everyone's heard is of course Me Myself And I, and with tracks like The Magic Number and the love rap Eye Know (with Otis's whistling to pull you in) it might be easy to write De La Soul off as soft hearted and nonsensical, but then there's Ghetto Thang and the anti-drug Say No Go - two socially angry tracks that can't be ignored.

One of the last great sample based albums before sampling were more about finding samples the label could clear before the creative process, Prince Paul's production is flawless. Whether it's Johnny Cash briefly showing up or French lessons being taught the amalgamation stands the test of time and still feels innovative. Unfortunately, there was a sample that wasn't cleared and thus The Turtles now get about half the royalties.

Due to some too silly stuff going on I can't really give this is a Got To Get stamp (I'm as surprised as you are), but it's damn near (the U.S. Library Of Congress disagrees, though as they added 3 Feet High And Rising to the National Recording Registry a couple of years ago).

They were the first band I saw live ('89 or '90 at the classic Gröna Lund stage in Stockholm) and all I can say is: Long live the Native Tongues and the D.A.I.S.Y. age!