0914. Fela And Africa '70
Zombie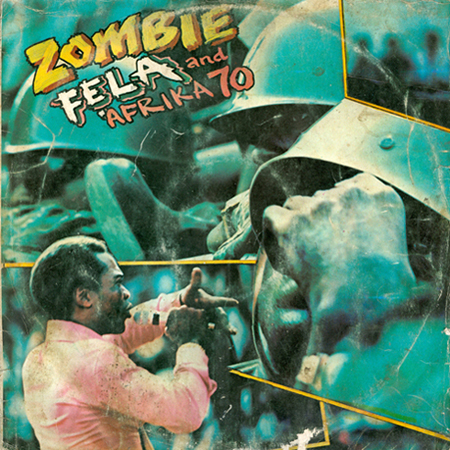 For an album of two songs, spanning twenty five minutes, there sure are a lot of versions lying around, varying from just different namings of Follow Follow (as Mr. Follow Follow) or including up to three other tracks (not the same on all presses) and extending the play time to almost the double.

Even the name of the performers ranges from Fela Anikulapo Kuti & Africa 70 Organization to the more informal Fela And Afrika 70.

The afrobeat grooves takes their time, it's as usual mostly instrumental tracks, but the sparse lyrics don't leave much doubt that it's music with a political edge - both Zombie and Mister Follow Follow dealing with the blind obedience of the military.

Proving once more that music is perceived as a dangerous enemy, this album led to the Nigerian government's crackdown on Kuti's Kalakuta Republic, with a thousand soldiers storming in, killing and desecrating Kuti's mother, attempting to beat Fela to death, and razing the commune.

Kuti survived, and retaliated by sending his mother's coffin to the people in charge and recording two songs about the murder. Increasing the pressure on the government.