0516. Femi Kuti
Femi Kuti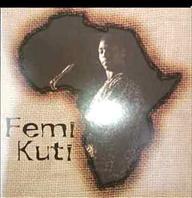 The second afrobeat album on the list is from a second- generation afrobeatist[sic?] and his third LP.
Femi Kuti's the oldest son of Nigerian legend Fela Anikulapo Kuti. Maybe not as messianic or inflammatory as his late dad, but with music every bit as political and socially involved. Often with a sharp edge aimed at the rulers of his country combined with a call for a pan-African unity.

The logical continuation of the Kuti legacy is maybe a bit more accessible, and somewhere in one of the songs I'm also reminded of The Specials for some reason.
This is a treasure trove for anyone looking to get good samples, from the sax starting off the album to the breaks and call and response vocals it's just great.