0287. Ms. Dynamite
A Little Deeper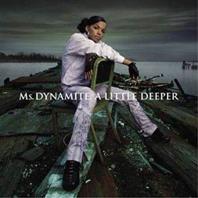 After a short intro denouncing ecstacy, cocain and the likes in favour of the sensi, this album kicks off with Ms. Dynmite's introduction, Dy-Na-Mi-Tee, a track telling the story of growing up Dynamite. It's catchy track, just like It Takes More, and they both deserve honorabe mentions, but I can't really see how this is an album you got to hear. It's a good mainstream debut, but symptomatically for much the books selection it's not that special.

[fact check: 1001 Albums You Must Hear... compares this to The Miseducation Of Lauryn Hill - a comparison I don't agree on since the only touchstones are too general to be specific. Yes they're both women who can sing and rap and yes, both albums have social themes and empowerment songs, but still: they're not in the same league(even though similarities persist in their respectve carreers and private lives.]
It's an okay debut, not that fantastic, but okay.