0072. Carpenters
Close To You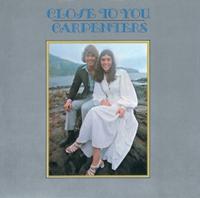 Carpenters, a brother-sister duo who, for some reason, scored huge successes with their very non-extreme music [fact check: they sold over a hundred mill].

This is an album which, if I hadn't already formed a relationship with a couple of songs via association to movies or TV-series, I wouldn't have felt that this was an exceptional album (and to be honest: I still don't), but as it is now the twin hits We've Only Just Begun and (They Long To Be) Close To You. To be frank it's mostly easy listening and that'd okay (no it's not allright, but it's okay) if they'd only performed tracks by Bacharach and his ilk, but when they slaughter The Beatles' Help it's not even okay anymore.

It's just scary and I don't know if I want to be in the same room with those sounds of vivisecton (if guys like Venom really would like to spread their satanic gospel they ought to do it like the Carpenters).