0500. The Mamas And The Papas
If You Can Believe Your Eyes And Ears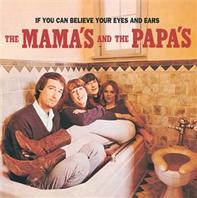 Harmonizing their way into the hearts of many a baby-boomer, The Mamas And The Papas created a couple of folk-style evergreens on this debut. Strategically placing the hits as the A- and B-side starters respectively is a guarantee that both sides of the album will be played.

And it is the original songs where they deliver the goods, cause a couple of the covers are a bit too much of musical for my taste (The Beatles' I Call Your Name and Dobie Gray's The "In" Crowd) and others are just a bit of a yawn (Do You Wanna Dance and Spanish Harlem). So even though there's just about a third of the tracks that make the cut, they're enough to make this album work.

A bit of miscellanious info: The first version of the album cover was censored because of a toilet in the lower right corner (this version can be seen in the 1001 Albums...-book), and the blanking made several iterations until the only thing left was a cropping with the setting gone and only the group remaining.
Fascinating how dangerous some things are perceived to the moral fibre.