0389. George Harrison
All Things Must Pass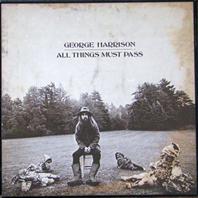 Holey moley!
After not having a lot of witing credits in The Beatles, George Harrison really had a huge stack of songs backed up and itching to pounce on an unsuspecting world [fact check: okay, so the oldest one is just from '66, four years prior to this recording]. What to do? Release the first triple album ever by a solo artist of course.

And that's what he did. Two albums of finished songs while the third is called Apple Jam and consists of jamsessions and similar. Most famous on All Things Must Pass is the praise My Sweet Lord (you know, the Hare Krishna-song), but Isn't It A Pity is a notch better, as is a couple of others, cause, well, George had a bunch of talent for writing.

The amazing thing about this is that it never gets dull. From the start and all the way up to the superfluous It's Johnny's Birthday (track two on side five, i.e. the twentieth song on the album) it's a high standard (which comes back on track three on side five and lasts the final three tracks). Possibly part of the credit belongs to co-producer Phil Spector, but mainly I'd say it's due to Harrison.