0399. The Mothers Of Invention
Freak Out!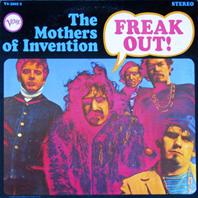 I can't get rid of the feeling that they're bullshitting me. Almost the whole of this debut double album (one of the first doubles, mind you) is dedicated to messing with the listener. This is meta-music where the tracks question both what pop-music is and what can be used as a theme.

The thing that could have made it a lote more deceptive and made it really sneak into the charts like a pop-culture (like Bobby Brown (Goes Down) would more than a decade later) is if Zappa had sung in a more radio-friendly, bland style. Then I'm sure songs like Wowie Zowie or Go Cry On Somebody Else's Shoulder would have been on every teeny-bopper's record player.

And that goes for about half of the album's runtime.

Then there's the other half, the one where they're not bullshitting, but instead is the more obvious Freak Out!, where they go via more experimental (and socio-political music over to exploding into the avant-garde with the two suites Help, I'm A Rock and The Return Of The Son Of Monster Magnet.

Good job, Mothers. Good job.