0278. Megadeth
Rust In Peace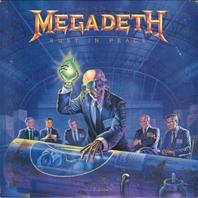 Finally! The last of the big four has arrived at he list!
The differences between Megadeth and Slayer, Anthrax and Metallica (whoa! those three all showed up way back in the one-hundreds) is first and foremost that it's yet another sound. Megadeth are tighter and nastier than the others. Not pure evil like Slayer or, well, campy like Anthrax, or aiming for the epic like Metallica, but plain nasty.
The lyrics are neither screamed nor sung, but delivered with a snarl (well, mostly at least, cause the weak points of the album are where Dave Mustaine's voice goes out of full fledged snarl-mode into a whiny style, but that doesn't happen too often).

Topics covered are politics, paranoia, religion and conspiracy theories (Hangar 18 is about the obvious fact that the guv'mint is hiding aliens) and the musics rifftastic, so go ahead: take a listen if you dare.
It's a good thing Mustaine got kicked out of Metallica back inna day, cause while Megadeth might not have had as much of a success as his previous band they've produced a bunch of classics which we might not have heard otherwise.