0120. Sepultura
Arise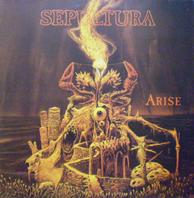 This fourth alum from the Brazilians is not fair to compare to Roots (which was just two albums away) since they differ on so many levels, but I guess it has to be done. Where Roots is the djungle storming out at you Arise is classic thrash-Sepultura with the major influence being, well, 80's Metallica.
Fast, tight and raging, with a side order of the evils of the world.

The only inkling of what was to come is in the track Altered State, with its tribal intro and heavy use of the bass drum and toms. Other tracks to look out for is Dead Embryonic cells, Under siege and the titular Arise - all of them are prime examples of Sepultura's thrash / death metal-expertise.