0730. Steely Dan
Can't Buy A Thrill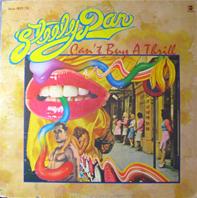 Another band that we've followed backwards in time, we've already heard their sixth and their second and this time it's the debut.

Here we can once again verify that some bands grow out of what they once were. In this case it's a Steely Dan that isn't so distanced from the music: the whole A-side is ripe with emotion (well, at least compared to their later releases).

The vocalist sings in a very unpolished way during the verses in Reelin' In The Years - almost as if the key was too high for him - and it's a very welcome twist.

Too bad they couldn't keep that side of themselves going.