0181. Minor Threat
Out Of Step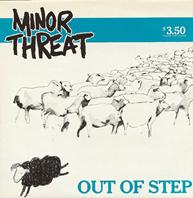 Minor Threat's first full-length album (well, for a hardcore album I guess twenty-three minutes counts as "full length") was also their last. Just a couple of months after it's release they'd broken up and were on to other constellations. Compared to today's punk scene this is still pretty hardcore and, come to think of it, it's still pretty forefront - twenty-seven years later.

The songs all(?) have been covered by one band or another, and the style has been the mould for hardcore acts ever since. Pioneering the straight edge-movement they also (inadvertently) managed to accidentally create a bunch of holier-than-thou party-poopers.

But still: great music from a short-lived band.