0457. Elvis Presley
From Elvis In Memphis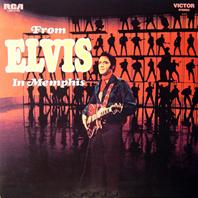 Countryfunk. Let it sit on the tongue for a while and really taste it. A fusion of the two genres possibly furthest apart of them all (except possibly gospel and black metal, but I'm not sure).
After mostly making soundtracks for a couple of years (and coincidentally also starring in a bunch of movies - probably completely unrelated) Elvis wanted to return to the studio for real.
And I guess it's very much like this people picture him, as it's a bit surreal, a bit over the top, and (dare I say it? hell yes!) a bit absurd - with gospel-style background singers, the countryfunk and The King's singing drawl.

The songs are (as usual) penned by others, and mostly it's not so very special. But this, his thrty-fifth(!), was Elvis' comeback album - and here's why:
During the sessions Elvis recorded not only one, but two of his greatest tracks: Suspicious Minds and In The Ghetto. The former was left off the album, but released as a chart-topping single later in the year, while the latter was both the album's (lead and only) single as well as the last song on the release. The protest song catapulted Presley back to relevance and got him out of Hollywood.