0277. Solomon Burke
Rock 'N' Soul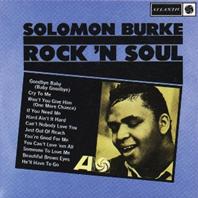 Solomon Burke passed away last year. This, his second album, was the one where he saluted one of his monikers: the king of Rock 'N' Soul.
Distancing himself from the too overtly sexual lyrics of the contemporary R'n'B, king Solomon chose the more chaste path, looking for the big love and not just some lovin' right now.

The songs on Rock 'N' Soul are, as per tradition, mostly other peoples' material in more or less personalized versions with the soft soul version of the country tune He'll Have To Go as a natural album finale.
The only tracks penned by Burke are Someone to Love Me and Beautiful Brown Eyes - two yearning, bittersweet songs nearing the end of the B-side and proving he could compete with the best of them. A nice Friday album.