0541. Waylon Jennings
Honky Tonk Heroes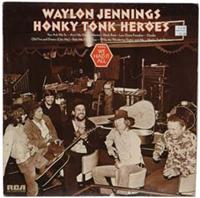 Okay, this is more of a "dude, you gotta hear this albums back-story before you die" than an actual album you must hear, but first thing's first:
This is bordering outlaw country (the genre, not an actual physical space) and it's also Waylon Jennings' ticket into that genre as he'd been doing more of a Nashville-sound due to record company demands, but now had more creative control.

Ten songs under half an hours playing time makes for stripped down, no frills country with a whiskey in one hand and a brawl in the other.

Now: on to a bit of the back-story! [a huge fact check]
Meeting songwriter Billy Joe Shaver on Willie Nelson's first annual 4th of July festival, Waylon got so impressed by the track Willie The Wandering Gypsy And Me that he invited Billy Joe to record an album. Then Jennings promptly forgot all about it until Shaver showed up in the studio, pissed after trying to get hold of Waylon for a while, and promising a beatdown if he didn't at least listen to the songs. Brave words from a lone man in front of a couple of biker body guards.

But Waylon did listen, and record the songs they did.