0255. Bon Jovi
Slippery When Wet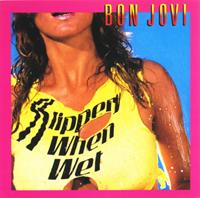 Made for the stadium rock with hair-metal tendencies aimed at a nation of teenage Jersey-girls, this is an album about love. Or maybe not as much about love as about singing about romanticised love.
The only place the lovage touches ground is in Livin' On A Prayer, where Johnny and Gina are scraping by, dreaming to get away from their poor living but pretty much only have themselves to rely on - it's the popped out version of a couple of Springsteen tracks I'd say (and thus becoming number one on some people's hit-lists).

Incidentally Livin' On A Prayer seem to rely on the same ooh ah-rythm as You Give Love A Bad Name, only less accented in the latter, which might explain why You Give Love... also was a major hit (also it's a getting dumped-song for the jeans-clad guys - not many of those tracks around).

Songs like Social Disease are easily skipped and also, I can't shake the feeling that they re-used about half the lyrics on I'd Die For You for some of the later rock ballads by both Bon Jovi and Jon's solo career.
Another template for the further adventures of Bon Jovi is Wanted Dead Or Alive - arguably their biggest hit (okay, possibly their third biggest hit) - the modern day outlaw cowboy who's seen a million faces and rocked 'em all is a good song with the only negative that it, as I said, gave the band hubris, thinking they actually were the cowboys they sang about.