0001. R.E.M.
Document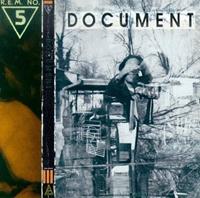 This is the first album the random generator delivered and my first thought was "R.E.M.? Probably the usual story: one of their records that'll get a top-rating by the reviewers, but not so very interesting for anyone else than the fans.
Then I looked at the tracklist.
The One I Love is on it an that equals a top rating! So no matter what else was on there I knew the album would be well worth the listen. I also discovered that it's the same record as It's The End Of The World As We Know It (And I Feel Fine) is on, and that too is on the general "good songs in the world"-list.

To put it short, Document is a hell of a record and one of the ones that's going onto the GotToGet-list instead of just eing listened to as mp3 or streaming media...

What makes Document something special is that apart fron the obvious hits is kind of the definition of the R.E.M.-sound s I recall it: alternative rock, an ambivalent singer (to say the least) who at times blurts out what seems like nonsensical lines, and the patented Michael Stipe / Mike Mills-harmonies where the latter's nasal twang makes for an exellent contrast. Complete the recepie with a bit of different instrumentation and the deal's done. With the exception that a saxophone is almost always a bad idea - at least when it sounds as cheesy as on Fireplace.

But back to the greatest songs: The One I Love is almost rediciously great. One of the few songs that makes me want to create music of my own - but sad to say it's also one of the songs that makes me realise I'll probably never do it just as good. The album's almost worth the buy just because of The One I Love, but before that one there's It's The End Of The World As We Know It (And I Feel Fine) which always gets my mood up (it's also the song that contains one of the least discrete namedrops I've ever heard). If the world would come to an end I'd hope it would feel as great as that song.

On the negative side there's Stipes' whiney "niiiight" on Strange, a tone of voice he keeps throughout Lightnin' Hopkins, and (as I mentioned) the sax on Fireplace, but those ar just minor nuciances and all'n'all I think this is one of the better albums to start the review series with - thanks random page generator!