0378. Khaled
Kenza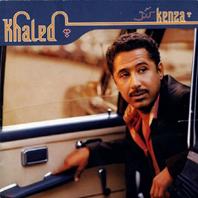 The only thing I'd heard from Khaled before today was his megahits Didi (which I can hear slight echoes of in El Aâdyene) and Aïcha, so I knew there'd be some Raï, but what I got was a bit more - or at least, different.
After the fairly good El Harba Wine (even though I'll never get used to the nasal style of singing that the guest Amar gives an example of) and the crooner-pop of C'est La Nuit treads by I recognize an unmistakable piano-chord progression and have jut enough time to go "Aw, Hell no" before Khaled and guesting Noa breaks out in a version of Imagine that sends chills down my spine - it feels like if someone's tap-dancing on my grave as I lay buried alive (well, almost at least, and it's not an experience I'd recommend).

Ya Aâchkou on the other hand is a well-crafted world-pop that, even though it's got that eighties-feel a lot of Raï has (well, at least the mainstream Raï that I've heard), gives some insight into where the popular " King of Raï" were going.