0717. The Roots
Phrenology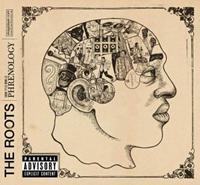 The Roots are one of those bands who, in theory, will kick the living daylights out of any gig, but on disc they're, well, not exactly living up to the expectations.
The two main themes (or at least the themes that get a couple of tracks each) on Phrenology seem to be cheating and representing, and it's actually a bit boring (although The Seed 2.0 is a good rock track).

But as Water crosses over into a Residents-type thing halfway to the ten minute mark, and blending in a Maggot Brain style towards the end it's refreshing - both as evolution of the album and for a hip hop group to do.

On an aside it's also nice to hear a shoutout to Justin Warfield in the skit WAOK (AY) Roll Call (as he's made one of my favorite tracks of all time) and their borrowing of a couple of lines from the Jungle Brothers for the intro and outro of Pussy Galore.

The best thing about the album is that it's musically varied, both for a hip hop album and for a rock album, but the worst is that it's far less intellectual than The Roots' mythos promises.