0386. Koffi Olomidé
Haut De Gamme: Koweït, Rive Gauche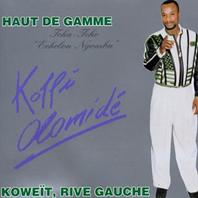 Okay, this is an album by a Congolese singer who's played with Papa Wemba, with nine tracks spanning almost an hour, and I immediately assume it's going to be a good one! And while maybe not as great as I'd envisioned it's still pretty good soukous in his own, slower Tcha Tcho-style.

Some of the eighties-sounding bits (like the intro of Désespoir) are as eighties-style pop is, but more often than not the songs recover and move on to be what they should be.

I don't know how to rumba to it and I don't understand a word, but that's okay, it's still nice.