0320. Madonna
Like A Prayer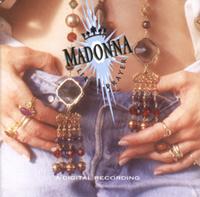 The infamous title track, or rather, the infamous video of the title track, made Madonna's fourth album into her most controversial ever. Perfect for selling a bunch of platinum records as well as getting into the group of select few who got condemned by the silly people in the Vatican, but Madonna's one (as is of course the wonderful Sinéad), which is kinda funny for a song and an album focused on how important religion is to her.

Aside from being banned in the Vat Cit. the album also became Madonna's breakthrough as "a serious song-writer" instead of "just another pop singer", and influenced a whole lot of people in being a little bit more explicit.

As for the songs, it's a mix of pop, funk, gospel and an itty bitty bite of rock with sexually suggestive lyrics about love, empowerment and the aforementioned religion. Best on the album is either the title track or Express Yourself and worst of the serious songs is probably Love Song where in spite of Madonna teams up with the little dirty man from Minneapolis, Prince himself, the result is far from the juicy stew it ought to be (the most irritating track is Spanish Eyes since I can't figure out where the song-melody is taken from, but I'm positive that it's another Madonna-track).