0995. Rod Stewart
Every Picture Tells A Story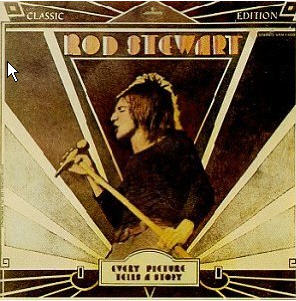 So, a couple of years after helping Jeff Beck deliver some Truth, and just a couple of months before A Nod Is As Good As A Wink... To A Blind Horse, Rod had all of the Faces helping him out with his third solo album.

And it's very similar to Gasoline Alley in that it's raspy rock with a Dylan cover thrown into it. Incredibly enough the band manages to record a version of the Elvis hit That's Alright that's actually tame. Just sounds like a couple of kids playing to sheet music and trying to not be too loud about it while Stewart's actually trying to make something of it.

Sad that they just miss so many chances to do something cool with the material they've got, but it's emblematic.

Then there's Rod's breakthrough song, Maggie May - unusually it's the story of a younger man (a boy really) and an older woman, and it's not told as a "coming of age" story either, but instead he's trying to break it off with a cougar who's just using (and maybe abusing) him.

Somehow it's perceived as a love ballad.