0195. David Bowie
Young Americans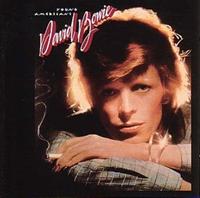 I feels like just week ago that David Bowie was on the list, but Hunky dory actually was almost forty albums ago (on Bowies personal timeline, however, it was five albums earlier).
The difference in sound is as huge as the change in image - from budding glam-rocker to a Philly soul man-wannabe.
Problem is that his distinctive voice and limited range doesn't quite handle the genre.

Another pet peeve for me is that it's a very dated sound, with cheesy saxophones and extremely plastic synth-strings. Not even the fact that as disparate singers as Luther Vandross (who, co-wrote the album's best track, Fascination) and John Lennon feature heavily on the albums backing vocals makes it more than acceptable.

I guess it's a must-hear for fans, but for any and everyone else it's more of an average album.