0652. Dennis Wilson
Pacific Ocean Blue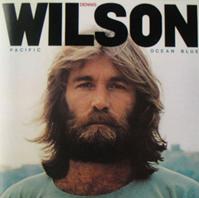 The first of the Beach Boys to release a solo album, Dennis Wilson sure made sure he wouldn't have any surf sounding songs. While the oohs in the intro of the gospel flavored River Song breathes of Beach Boys harmonies, Wilson quickly dissipates any further similarities when he starts to sing.

After years of heavy drinking and snorting, his voice is almost cracked and it's clear especially in the unexpectedly heavy Friday Night that he's straining it to deliver.

Sadly, this is Dennis' only solo album as the follow up never was really completed before his accidental death six years later (but recordings from the sessions have been released as a bonus-disc to the re-release of Pacific Ocean Blue).
The only song that could have been left off is What's Wrong, with its 50's sock hop feel, but he could have left a far worse legacy, musically.