0869. The Doors
L.A. Woman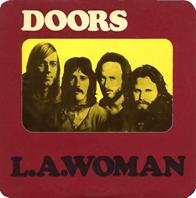 Ray Manzarek died erlier this week. The keyboardist for The Doors had held the torch for the band ever since the singer, Jim Morrison, O.D'd in Paris three months after this albums release (after breaking down on stage during the tour for L.A. Woman).

Compared to their debut they've moved into a different territory. This is more of a "pure" blues rock than psychedelia, but Manzarek's keyboard still gets the spotlight at times.

The peak of this album is the finale. You just can't argue with Riders On The Storm being one of the great psychedelic songs when you listen to Jim's voice. Cause he really could deliver, but seriously - some of his poetry are truly doggerel-ish, but he's got a delivery that mostly carries it all the way.

Mostly this is real good stuff.