0670. 50 Cent
Get Rich Or Die Tryin'
Debut album. Sold bajillions and made Fiddy one of the biggest rappers out there. Of course the album was a hit, it was produced by Dr. Dre and Eminem, what the Hell did you expect?
It's of course chock-full of gangsta/thug rap tracks, bar one. 21 Questions kind of blindsides you if you haven't heard it before (thus managing to miss his second consecutive number one hit) - it's a sappy love song placed just a couple of tracks after P.I.M.P. (where he of course explains his opinion of women).
...the Hell? Is there a sample of Popcorn in Poor Lil Rich? Okay, so it's not a sample, but someone's sure listened a lot to Hot Butter, methinks.
The one track I actually fascinateds me is Many Men (Wish Death), where he (sort of) tells the story of his famous shooting and implicates he set up the murder of the guy who ordered his.
It's a good piece of storytelling.
(yes, I know I shouldn't judge a book by the cover, or in this case an album by it's booklet, but come on! he's making that slightly surprised zoolander-face on every damn picture!)
…and then this was removed from the list.
Replaced by:
Lupe Fiasco
Lupe Fiasco's Food & Liquor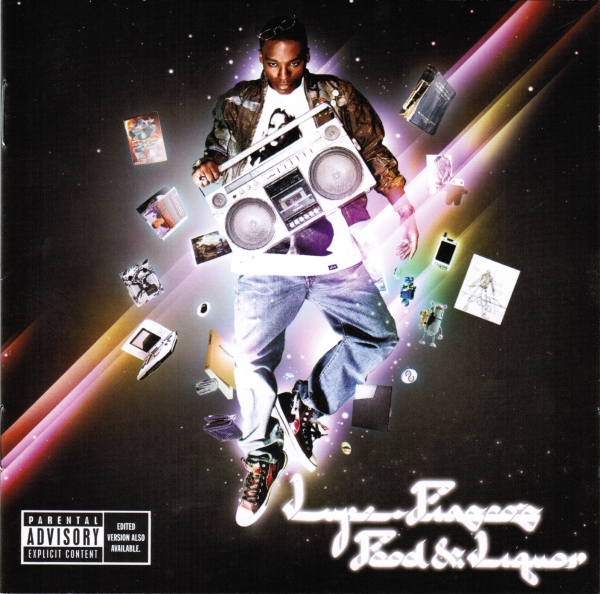 So Lupe Fiasco's the one they called the hipster rapper after hearing him rap about skateboarding (Kick, Push), but I'm glad to report that he's a bit more nuanced than that (even though the hook of Sunshine makes me whince) - he's the guy who remixed Kanye West's Diamonds From Sierra Leone into Conflict Diamonds and on this album he shows a bit of conscience too.

With production from a bunch of dudes like (the aforementioned) Kanye (The Cool), Linkin Park (The Instrumental), which in a couple of cases makes Lupe sound as if he's guest starring on someone else's album.

I guess it's telling that the hit Daydreamin' (with Jill Scott) is both produced by a lesser known and probably has of the best instrumentals on Food & Liquor.

It's second only to Kanye's production on The Cool, where Lupe gets into the same mood At Sleep (a Swedish alternative rapper who I can't seem to find on the net anymore) did backinnaday.

But a freakin' twelve minute outro of shoutouts? Goddämnit, kid, nobody wants to hear that. Ain't got the time for it either.